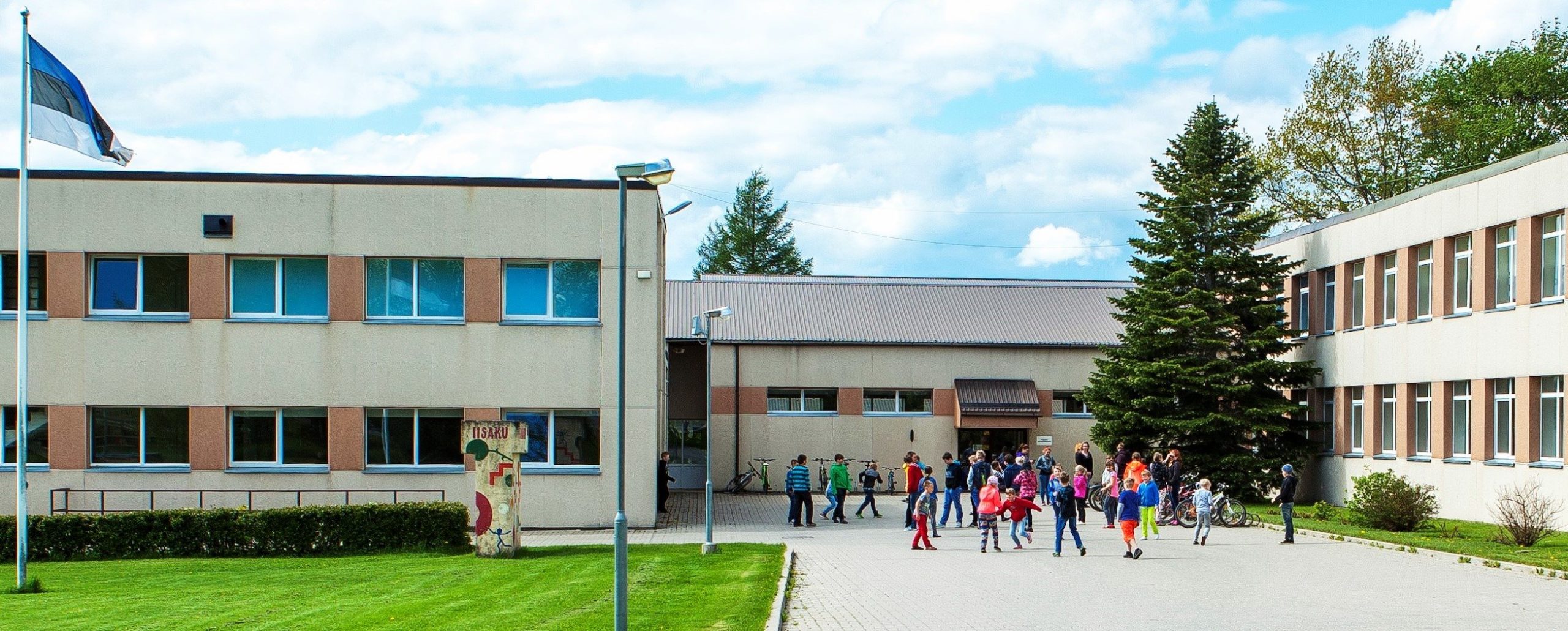 History
Education has been given at Iisaku at least since 1750 (a date when a schoolteacher is known to have been sought for), with Iisaku School first mentioned in 1788. There was a school at Iisaku and village schools in the surrounding villages.
The famous composer and local sacristan Robert Theodor Hansen was the founder of the contemporary school. On October 28th , 1868, he opened a private school in the confirmation classroom of Iisaku church with only three students, hoping the number to reach up to 15.
A new schoolhouse was built and a parish school opened in 1883.
In 1903 a municipality school was opened in Tärivere. In 1913, it was re-named to Iisaku 2-year Ministry School. After a fire in 1913, a new schoolhouse was built at Iisaku.
Over the years, the school has had different names:
1919 Iisaku Higher Primary School
1942-1944 Iisaku 6-Year Primary School
1954-1962 Iisaku 7-Year School
1962-1968 Iisaku 8-Year School
A new schoolhouse was opened in 1964, and since 1968 it became a secondary school.
Some important stages in its history:
1976 – the school was greatly expanded
1978 – a dormitory for 20 students was opened
1985 – the stadium was reconstructed, information and computer studies were first offered
1996 – the school was renamed to Iisaku Gymnasium
2003 – the students' home was renovated
2005 – renovation of the canteen
2006 – renovation of the older part of the schoolhouse
2009 – renovation of the rest of the schoolhouse and of the shooting range; an one-kilometre roller rink was built behind the schoolhouse
From 1968 to 2014 there have been 44 graduating classes with 831 graduates. 14 of them have had gold and 21 silver medals.
The famous long-distance runner Enn Sellik studied at Iisaku.
The contemporary school…
…is located near Tartu-Jõhvi highway, but surrounded by nature.
…is for the children from Iisaku and neighbouring villages.
…gives an opportunity to study about computers and robotics, economy and national defence.
…helps children with special needs via offering them supporting lessons, tutoring and a special curriculum.
…offers extracurricular activities in the field of drama, floral design, music, media, volleyball, basketball, shooting, skiing, handicraft and woodwork.
…has modern classrooms.
There are three broad areas of study for the secondary school students, with different optional courses:
The Social Studies and Media area of study focuses on the interaction of journalism and media as well as their influence upon society.
The National Defence and Sports area of study gives basic knowledge of national defence and physical training.
The Science and Economy area of study concentrates on knowledge of natural sciences, economy and business.
Study groups are formed according to the preferences of at least five students.
Leisure at Iisaku
Iisaku Gymnasium has got a modern educational environment, a library and the necessary equipment to apply new teaching trends. The school has professional and competent teachers. Students can practise sports in the gym, the stadium, the black-iron gym, go to the shooting range, use a lighted roller rink and ski in the winter. There is an opportunity to study self-defence. A good place to go skiing and jogging is Tärivere Hill two kilometres from the schoolhouse.
Students from outside of Iisaku are accommodated in comfortable rooms for two or three in the students´ home. There is a prolonged day group for the students who want to do their homework at school.
Students can take up sports, drama, handicraft and shooting. Computer users meet in an eSport group once a week in order to play, analyze different games and mistakes made, learn their strategy and arrange tournaments.
Iisaku School of Fine Arts is located in the same building as the school. Different musical instruments (the piano, accordion, violin, zither, guitar, rhythmic and brass instruments), arts and dancing are taught there. Those who are interested in singing can train their voice in a small group or individually. Leaners of rhytmic instruments can learn t play special drums konga and bongo from Latin-America and an African hand drum djembe.
Further from school, there is the Iisaku Youth Centre, which is a part of the community centre. It is for all young people with no preconditions as to their beliefs, abilities, skills, knowledge and finances. It involves their initiative, enables communication and activities at an appropriate time. There is the Iisaku choir, a ladies´folk dance group "Tantsutikker", a mixed folk dance group "Tantsuking", a folk song group, a dance group "Shwips", a youth drama group and some youth bands.
The students' home…
…was opened in February 2003.
…is for both children from outside Iisaku as well as children from families with economic problems, offering good living and learning conditions.
…accommodates 26 students (both basic and secondary school students).
…has box-system type rooms for two or three, which have a bathroom and a toilet in every box.
…has got tutoring help in order to encourage students' habitual love for work.
…caters four times a day.
…offers hobby groups free of charge.